Virginia Beach Semi Truck Repair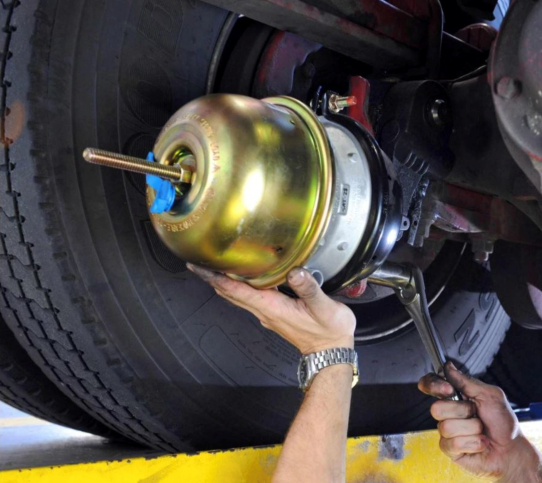 We fix and maintain semi trucks of all brands, all sizes.
From straight cabs to box trucks to day cabs to over-the-roads, we cover the full range of semi truck repair. Our experienced mechanics can diagnose and repair any issue you may have with your vehicle, from electrical to engine repairs.
We also offer scheduled maintenance services, such as oil changes and tune-ups, as well as unscheduled emergency repairs. Our commitment to excellence means that we stand by our workmanship—we guarantee all of our repairs. Call us for details.
We are committed to getting your semi truck back on the road in a timely fashion so that you can continue doing what you do best: hauling freight! 
Not only do we do regular repair work; we also offer custom modifications and upgrades to enhance the performance of your semi truck. Whether it's a simple aftermarket addition or a full-on engine rebuild, we have the skills and experience to make your truck run like new.
We are dedicated to providing top-notch semi-truck repair services  to our customers. We strive to offer efficient, cost-effective repairs that will keep your semi trucks running efficiently for many miles to come. If you need semi truck repair in Virginia Beach, VA, don't hesitate—to give us a call today at (757) 909-5462. We guarantee quality, dependable service every time! 
For parts and accessories, we stock an extensive inventory of genuine components from all major manufacturers as well as aftermarket options for most vehicles. Our experienced staff can help you find the right part for your vehicle quickly and affordably. Plus, we offer fast shipping and delivery service. So don't wait—get your parts and accessories from us today.
No matter what type of semi truck repair or service you need, you can count on us to get it done right the first time. We take pride in being reliable, efficient and competitively priced. Contact us today to schedule an appointment for semi truck repair services. We look forward to serving you soon.
Engines
We repair both Diesel and gasoline engines. Our specialties include turbochargers, gaskets, throttle bodies, particulate matter filters, belts, hoses, radiators, and more.
At Virginia Beach Mobile Truck Repair, we are experts in engine repair. Our experienced technicians have the knowledge and tools to handle any issue that may arise with your diesel or gasoline engine. We will diagnose the problem, determine the best course of action and get your engine running smoothly and efficiently again. 
We also provide preventive maintenance services, such as oil changes, tune-ups, and filter replacements, to ensure that your vehicle is running properly and making you money! So don't wait – contact us today for all of your truck repair needs. We look forward to serving you soon! 
Suspension & Steering
Our mechanics specialize in suspension & steering repairs for semi trucks. From shocks, struts, sway bars and control arms to power steering pumps, tie rods, and steering boxes, we can repair any issue with your vehicle's suspension or steering system.
We also provide preventive maintenance services to keep your truck running smoothly and safely. Our technicians will inspect all components of the suspension & steering system for signs of wear and tear, then make any necessary repairs or replacements. We guarantee our workmanship so that you can have peace of mind on the road.
If you need suspension & steering repairs for your semi truck, don't hesitate—give us a call! Our experienced technicians are here to help get your vehicle back up and running as quickly as possible. Contact us today to schedule an appointment! We look forward to serving you soon! 
Brakes
Safety is paramount when it comes to semi truck brakes. Our experienced technicians specialize in brake repair and installation for all types of vehicles. We can handle any issue, from simply replacing worn-out parts to completely overhauling the system. 
We use only the highest quality parts and materials when servicing brakes, ensuring that your vehicle is getting the best care possible. We also offer preventive maintenance services, such as brake fluid flushes and pad replacements, to ensure that your brakes are functioning properly at all times. 
Our Company also offers other services such as emergency roadside truck repair, mobile truck engine repair, and more.
Contact us today for quality semi truck repairs and preventive maintenance. Our experienced technicians will get you back on the road quickly and safely with professional service you can trust.
Dial (757) 909-5462.